ATEK Access Technologies Adds New Industrial SD Models to Datakey RUGGEDrive™ Line at Embedded World
Mar 13, 2017
Press Release
EDEN PRAIRIE, Minn. (March 14, 2017) – ATEK Access Technologies today announced it has expanded its Datakey RUGGEDrive™ Line of USB flash drive and SD memory tokens with a new line of industrial models, providing industrial SD card functionality in the unique RUGGEDrive form factor. The new Industrial DFX memory tokens add industrial temperature operation, a fixed bill of materials and SLC NAND flash capabilities. The new RUGGEDrive models will be on display at Embedded World 2017, March 14-16 in Nuremberg, Germany at the Datakey booth (#4A-351).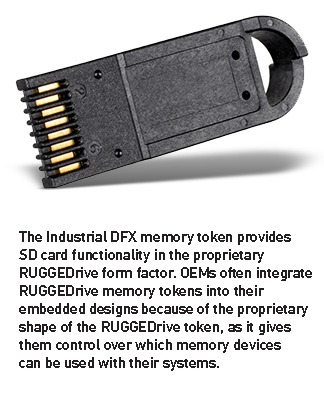 Consumer-grade SD cards that meet the SD specification operate over the temperature range of -25°C to +85°C. The Datakey Industrial DFX models operate over the full industrial temperature range of -40°C to +85°C. This expanded lower temperature range can be important for certain military, agriculture and industrial applications. The Industrial DFX memory tokens also feature a fixed bill of materials (BOM), which ensures consistent performance over time.
"The main components that make up an SD card are the controller IC, the firmware it runs and the NAND flash," said Paul Plitzuweit, Senior Product Manager for the Datakey line. "With consumer SD cards, these components can change from lot-to-lot, resulting in varying levels of performance and reliability."
The new Industrial DFX memory tokens are available with either Multi-Level Cell (MLC) or Single-Level Cell (SLC) NAND flash. SLC NAND flash has several advantages over MLC NAND flash, which can be important in some applications, including:
Increased Program/Erase Cycles
NAND flash memory cells wear down with use. MLC cells are commonly rated for 3,000 program/erase cycles, where SLC cells are commonly rated for between 60,000 and 100,000 cycles, making it a better choice for write-intensive applications.

Faster Write Speeds
With only a single bit being stored per cell for SLC, there is less logic required to write to a cell as compared to MLC, which stores two bits per cell.
Longer Product Life Cycles
With SLC largely restricted to non-consumer embedded applications, it does not face the same pressures to continually shift to smaller die geometries and higher densities. Therefore, SLC products have better long-term product availability.
Better Unpowered Data Retention
For applications where there will be long periods when the memory device will be unpowered, SLC NAND flash will provide longer data retention. This is especially important if the device will be stored in a high temperature environment.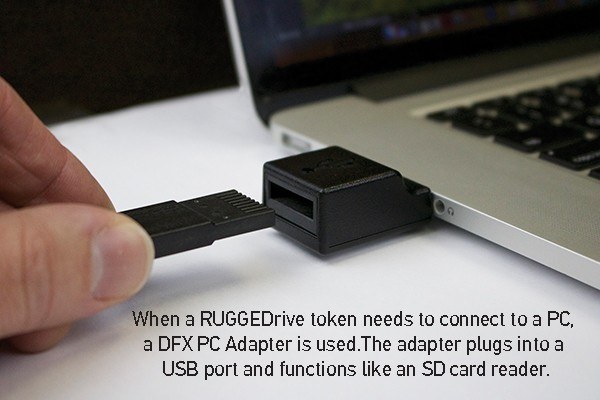 First launched in late 2010, the RUGGEDrive line gives embedded systems designers a more rugged and secure alternative to consumer USB flash drives and SD cards. The proprietary shape of the RUGGEDrive memory token prevents it from plugging into standard ports. Instead, RUGGEDrive receptacles are used on the embedded device. This prevents unapproved devices (like USB flash drives or SD cards) from connecting to the system. The RUGGEDrive token also utilizes solid over-molded construction, making it many times stronger than traditional SD cards (see destructive testing video).
Stop by the Datakey booth (#4A-351) at Embedded World to see new Industrial RUGGEDrive products and follow Datakey on Twitter for updates using the hashtag #ew17.
For more information about the Datakey Industrial and Commercial RUGGEDrive Line products, visit www.datakey.com.
About ATEK Access Technologies
ATEK Access Technologies, LLC is part of the ATEK Companies group of technology and manufacturing businesses. Its industry-leading brands use the power of advanced machine-to-machine (M2M) technologies to provide customers access to superior efficiencies and savings, essential data and systems, improved safety and control, and expert solutions and support. Its brands include Datakey, Larco, TankScan and AssetScan. For more information, visit www.atekaccess.com.
ATEK's Datakey product line features portable memory devices that utilize solid over-molded construction, industrial-temperature electronics, redundant electrical contacts and harsh-environment, high cycle-life receptacles. Additionally, Datakey products have a proven history of long-term availability that consumer memory products, like USB flash drives and SD cards, lack. Since 1976, Datakey products have been the preferred portable memory solution by many of the world's largest defense, medical and commercial OEMs. For more information, visit www.datakey.com.
Media Contact:
Christina Alvarez
Mulberry Marketing Communications
214-720-5943
calvarez@mulberrymc.com